Salem WEST / 218-534-4962 /

22348 State Highway 6

/ PO Box 100 / Deerwood, MN 56444
The Mustard Seed / 218-534-2945 / 23697 Forest Road / Deerwood, MN 56444
Making Donations
Salem WEST works to equip families and individuals with much needed quality necessity items. We ask that our donations reflect this. Disposal of items that cannot be used or are not in good enough condition to be distributed adds up quickly, please be mindful of this when donating. If you have a question about what donations are accepted please don't hesitate to call and ask us!
We are not taking the following at this time:
No winter clothing to summer clothing.
No particle board items – such as microwave carts, entertainment centers, bookcases etc.
No large kitchen appliances
No electronics – such as vcr's, tv's, computers, keyboards, printers, copy machines, typewriters, etc.
No mini-blinds or vertical blinds
No clothing that is ripped, stained or torn.
We want to thank you for all of your donations and appreciate them very much.
Items We Accept:
Beds (from non-smoking homes)

:

Twin mattresses, box springs and frames.
Matresses of all sizes (Except King Size)
We do not accept any crib donations unless new in the box.
Furniture (from non-smoking homes)

:
Couches and love seats (no hide-a-beds please)
Kitchen or dining room tables and chairs (we will gladly take them in as a set or as individual pieces)
*All upholstered furniture should not show excessive wear, staining or rips.
Kitchen towels, dish rags, pot holders and rugs
Bath towels, wash cloths, rugs and shower curtains
Throw blankets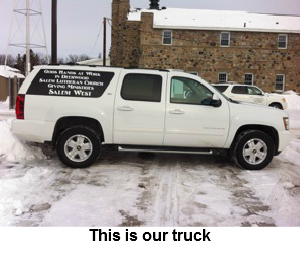 Silverware

*We do not accept car seats
*If you have large household appliances to donate please contact the Habitat for Humanity ReStore at 218-454-8517.
Children's and baby clothing are always accepted. We do ask that clothing being donated is appropriate to the season. Adult clothing is accepted on a more limited basis. Please call ahead to find out what clothing is being taken. *All clothing should be in good usable condition, free of stains and rips.
If there are items you are interested in donating and do not see them listed please call before coming over to see if it is an item we accept and have overlooked it on our list.
If there are items that fall outside of the realm necessity items please visit The Mustard Seed portion of the website to see if the items you have could be utilized there.
Our Wish List:
Salem WEST is in dire need of the following items due to high volumes of requests:
Bed frames of any size, dressers, dish sets, kitchen chairs, love seats

Kitchen chairs

Dishes

Used laptop computers for Honduras computer class
If you have any of these items to donate, please call Salem WEST, (218) 534-4962.